My 10 Favorite Christian Louboutin Sneakers
In 1992, Christian Louboutin launched his namesake label with two close friends in Paris, and the following year, the signature red sole was created.
Widely credited for producing standout footwear and statement-making bags, Christian Louboutin's signature red soles are not reserved for just high heels. They're also the iconic detail found on his equally elegant men's shoes.
A red carpet staple for stars like Jared Leto and Matthew McConaughey, Louboutin's men's footwear is at once edgy, fashion-forward and polished. The line ranges from studded loafers to colorful, on-trend sneakers, and here you can shop my selection for the best of Louboutin's men's sneakers out right now.
Red Runner Flat Version Multi Neoprene
The creativity and innovative design of Louboutin is revealed in the avant-garde look and cutting-edge technology of this sneaker. The Red Runner is set on an airy and bouncy rubber running outsole, featuring a mix of materials on its upper of wet leather, neoprene, veal velours, trimmed with a black and white grosgrain piping finish, dipped in electric hues and adorned with spikes.
Rankick Flat Mandorla Suede
A variation on the Rantus style, Christian Louboutin's Mandorla-colored suede delivers just the right amount of attitude. The high-top sneaker features a streamlined upper atop a chunky contrasting cup sole made of three cutouts in calfskin and patent leather. A wider heel makes for greater comfort.
Cavala Uomo Flat Black Leather
Cavala Uomo is a smooth black calfskin vintage high-top sneaker. The rich dark monochrome provides the ideal canvas to showcase the engraved metal buttons that serve as a closure. Set on white sturdy rubber outsoles, detailed topstitching provides elegant, bold lines.
Rantulow Orlato Men's Flat Violetta Satin
Inspired by the retro trend, Louboutin takes a fresh approach on the iconic Rantulow Orlato low-top sneakers with this version made from violet satin. These rounded-toe sneakers adjust with laces. This model also has a pull-tab at the back and a grosgrain trim finish.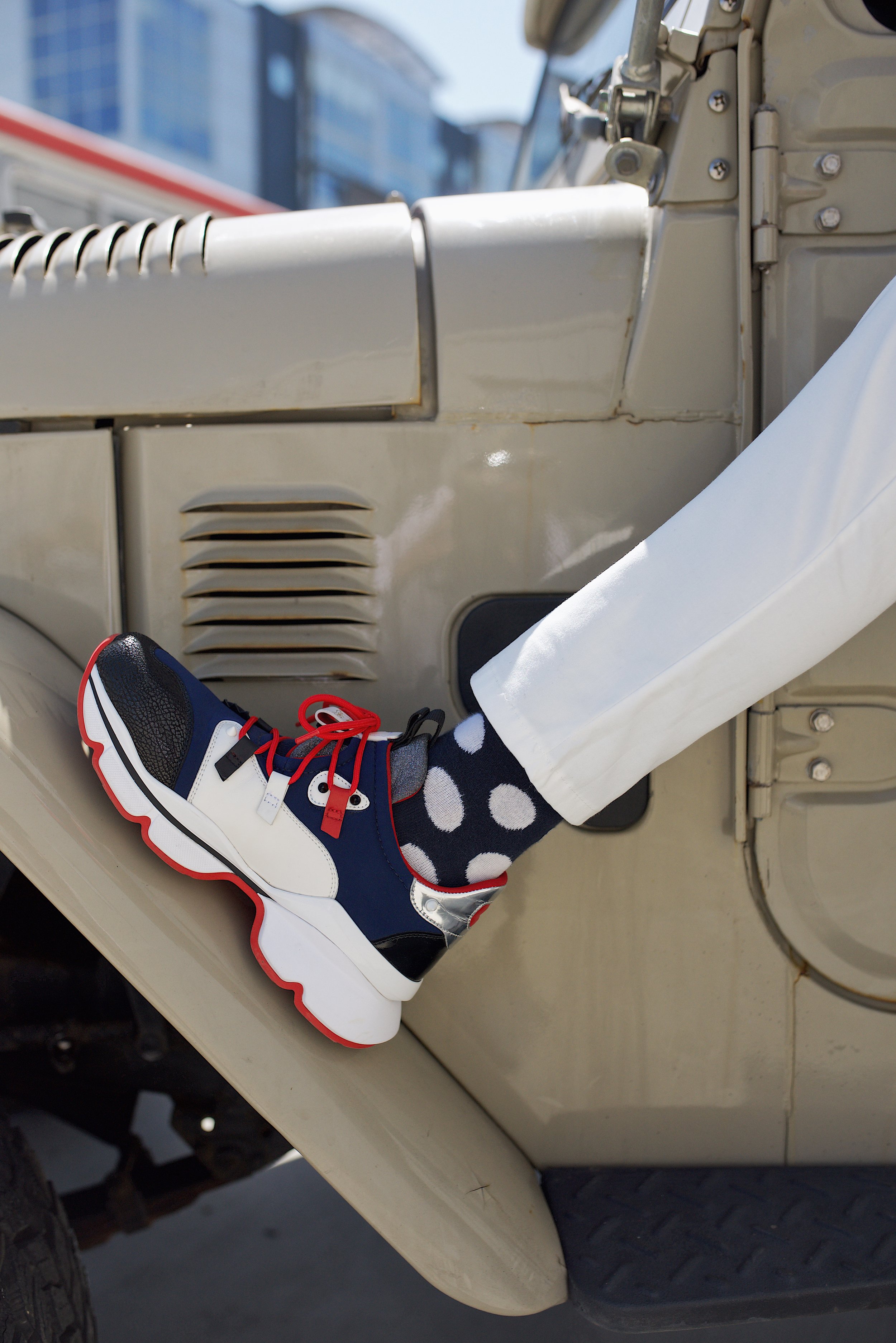 Red Runner Flat Version Multi Neoprene
Aurelien Flat Navy Suede
Christian Louboutin's black Aurelien sneakers are the embodiment of technical prowess. Bringing all the energy of a classic basketball sneaker from the '90's, a single pair is constituted of ninety different parts and takes two full days to create and hand-assemble. These low tops, designed with a neoprene sock, feature a unique and sophisticated cup sole construction—made of five different molds—that cradles the foot and balances style and comfort. The Marine set is crafted in a mix of calfskin, veau velours and patent leather, has a pronounced pull-tab, grosgrain piping finish and a vibrant signature red lining.
Louis Junior Men's Flat Black Leather
Simple and stylish, Christian Louboutin's black calfskin Louis Junior round-toe sneakers are crafted to a streamlined, low-top silhouette. Going full-black, this set is detailed with matching lace-ups, a pull-tab and a rubber outsole. A stitched scar on the back counter adds rock n' roll edge.
Rankick Flat Loubi Suede
Modern in design, the Rankick sneaker in Loubi-red is inspired by the creative expression of street art. Its topstitching and tone-on-tone eyelets reveal the meticulous craftsmanship of Christian Louboutin.
Louis Men's Flat White Leather
A timeless and seasonless model, the white calfskin Louis sneaker is mounted on a rubber sole. An ankle patch offers signature details of the Maison Christian Louboutin.
Rantulow Orlato Men's Flat Yellow Queen Satin
Inspired by the richness of the princely tones, the Rantulow Orlato sneaker in yellow queen satin seduces with its timeless line. Its grosgrain piping finish reveals the meticulous savoir-faire of the Louboutin House.
Paqueboat Flat Gres Suede
A fusion of modernity and tradition, the Paqueboat is raised on a 30mm rubber sole bearing the Maison Christian Louboutin's name at the back, and uses a technique that reduces shocks while walking, guaranteeing comfort and lightness. Its grey veau velours upper has a laser-cut insert on the apron and a topstitched finish.
Style Inspo
Check out these looks I've styled with Christian Louboutin sneakers (click photo for full post)